Bush & Noble, the Official Dealer for Horizon Yachts Middle East, is pleased to announce the launch of twin RP110 Superyachts built for two clients who share a unique Horizon yacht ownership story, despite their Superyachts being delivered to opposite continents.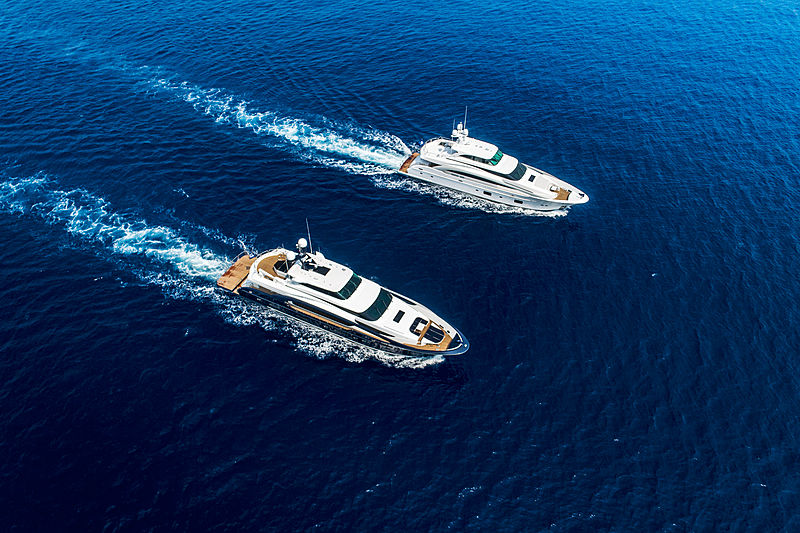 It's a story of being separated at "berth" for twin Horizon RP110 SuperYachts, which have just launched and are now scheduled to be delivered to their respective owners in the U.S. and Australia. Despite hailing from different continents, these owners have shared a unique yacht ownership path, which began in 2012 when they each purchased a Horizon E78. From there the owners both moved into Horizon E88 yachts before commissioning their own RP110 SuperYachts, that coincidentally, were tank tested together prior to being delivered in the same month.
RP110 Hull 5
The RP110 Hull 5 has been built for a third-time Horizon owner from the U.S. Featuring a double chine hull designed by Donald Blount, this RP110 is a true superyacht throughout, from style and amenities to performance. Within her 25' beam, the owner commissioned Italian designer Luca Dini to incorporate a casually elegant décor that pervades the spacious and flexible four-stateroom layout. Owing to Horizon's willingness to customize to owner specification, the salon of this RP110 has been fitted with an exquisite 150-bottle wine storage unit, which was customized to satisfy the oenophile owner's wine collection hobby.
RP110 Hull 7

Featuring exterior styling from J.C. Espinosa and an interior designed by Cor D. Rover, the second Horizon RP110, Hull 7, has been completely tailored to her Australian owners' preferences. Distinguished by an exterior profile that features floor-to-ceiling windows on the deckhouse and a dramatic dark blue hull, this yacht has been designed with a combined skylounge/open-bridge configuration that offers an enclosed, climate-controlled skylounge for family gatherings as well as open visibility from the bridge. Measuring 10' 10", the swim platform is large enough to facilitate sunning and water sports and can easily launch a three-ton tender.

Developed in collaboration between Horizon's in-house design team and international designers, the RP110 has been a pinnacle superyacht, having also been nominated for the prestigious World Superyacht Award for its graceful exterior styling, performance and stability.

"The coincidences surrounding these two RP110s are most unusual," says Horizon Group CEO John Lu, "and it has been our honor to be a part of this story. As the two newest RP110s begin their adventures on opposites sides of the globe, their owners' stories will continue – with memories made aboard two beautiful, high-performance and well-planned Horizon superyachts."

Horizon Yachts captured the two new RP110 superyachts cruising together during their sea trials in Taiwan.

Watch the video here
https://bit.ly/2VOInIs