With all of our new friends, likers, followers and pinners, it's evident that people really do love yachts, which is great, because so do we!
To show our appreciation for these wonderful 'floating islands' we thought we'd put together a rundown of the Top 10 Largest Yachts in the World!
Rising Sun is a 2004 motor yacht designed by Australian yacht designer Jon Bannenberg and built by Lurssen Yachts in Germany. Rising Sun was originally purchased by Oracle's CEO Larry Ellison and is currently owned by American film producer David Geffen.
The yacht has an aluminium superstructure and steel hull, with a maximum speed of 28 knots. Rising Sun holds an impressive 82 rooms on five storeys, complete with gymnasium, spa, private cinema and wine cellar. There is even a basketball court on the main deck that can be used as a heli-pad.
Not bad for only the 10th largest yacht in the world!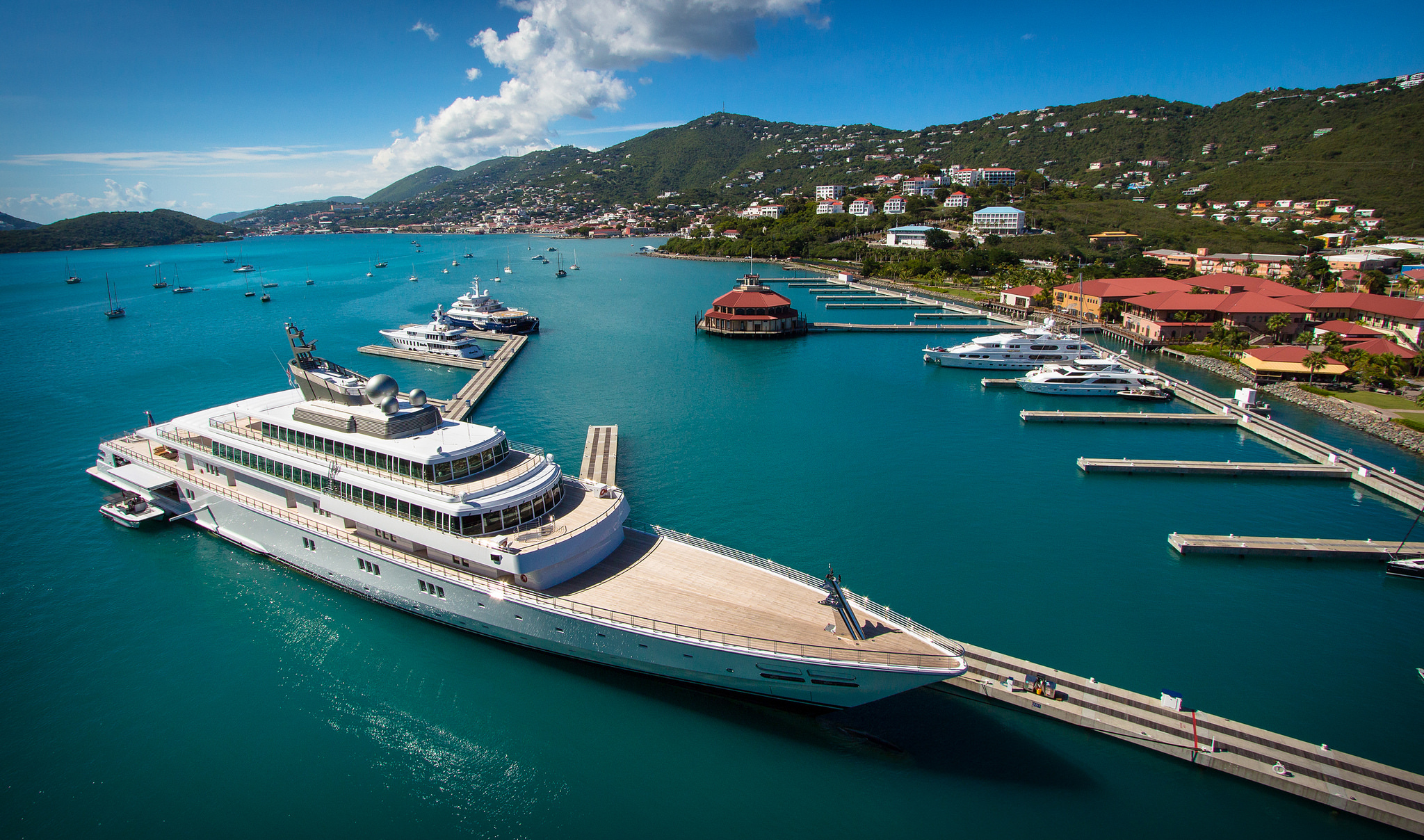 Al Salamah was custom built in 1999 by Lurssen Yachts, but was previously started by the German ship building company Kiel. The vessel, property of late Saudi Crown Prince, Sultan Bin Abdul Aziz, was designed by sought after super yacht designer Terence Disdale.
With an aluminium superstructure and steel hull, the super yacht has a maximum speed of 22 knots. Al Salamah's on-board amenities include a heli-pad, library, business centre, gymnasium, spa, cinema and a fully equipped hospital!
We think that's pretty impressive, don't you?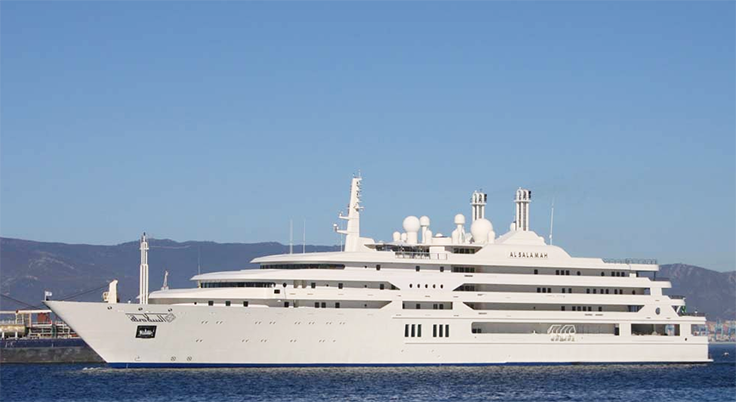 Yas, a motor yacht owned by Abu Dhabi's Hamdan bin Zayed bin Sultan Al Nahyan, was launched in 2011 by Abu Dhabi MAR Shipyards and designed by Paris-based Pierrejean Design Studio.
The yacht's hull was adapted from a former UAE Navy war ship built in 1978. This hull and lightweight composite superstructure mean the futuristic style yacht is able to reach remarkable speeds of up to 26 knots and has 'green' fuel economy.
Her on-board features include a spa, a full water craft garage and an impressive outdoor swimming pool! We're only based up the road, we wonder if they'll invite us over for a swim!
El Horria is one of the world's oldest super yachts, originally called Mahroussa and built for Egyptian Royalty in 1865. The vessel's design is similar to that of HMY Victoria and was built by the Samuda Brothers on the River Thames. She was the first ship to cross the Suez Canal in 1869 and remained with the Egyptian royal family until 1951, when she was taken over by the government and named El Horria.
The yacht has been through two major lengthening alterations; an addition of 40 feet in 1872 and a further 16.5 in 1905. With a maximum speed of just 16 knots, El Horria is currently cared for by the Egyptian Navy and only goes to sea around 3 times per year, for no longer than a day.
How's that for a history lesson?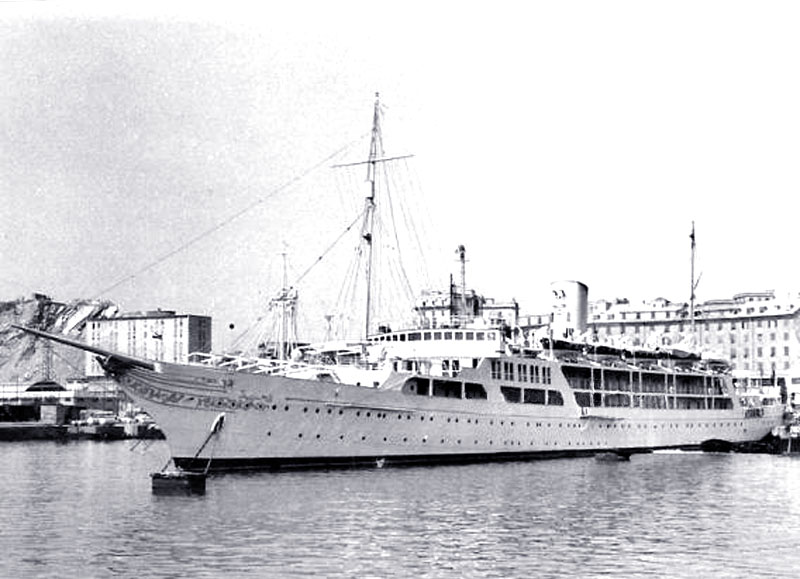 Much information about breathtaking mega yacht Topaz remains shrouded in mystery. Newly launched in 2012, the luxury motor yacht was built by German manufacturers Lurssen Yachts and designed by popular mega yacht designers Terence Disdale and Tim Heywood from Britain.
Believed to be built for the UAE's Deputy Prime Minister, Mansour Bin Zayed Al Nahyan, the yacht has 8 floors rumoured to boast a heli-pad, swimming pools, tender garages and 6 or more staterooms.
This is the second of the top 10 largest yachts in the world that call the UAE their home, and we're thrilled to share it with them!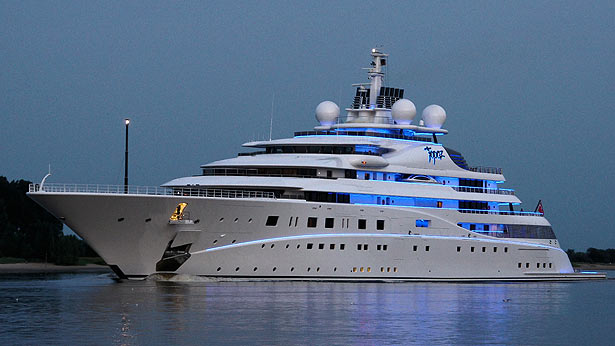 A Royal mega yacht belonging to the Saudi Royal Family, Prince Abdulaziz (formerly known as Abdulaziz) is regarded as the largest luxury yacht of the 20th century and held the title of the longest motor yacht in the world for 22 years. Despite her bulky steel build, Prince Abdulaziz can reach speeds of up to 22 knots.
First built in Denmark in 1984 by Helsing, the mega yacht originally belonged to King Fahd of Saudi Arabia and was passed onto his half-brother, the current King of Saudi Arabia Abdullah Ibn Abd Al-Aziz, in 2005.
Another one of the top 10 largest yachts in the world with a spectacular history, Prince Abdulaziz has truly stood the test of time.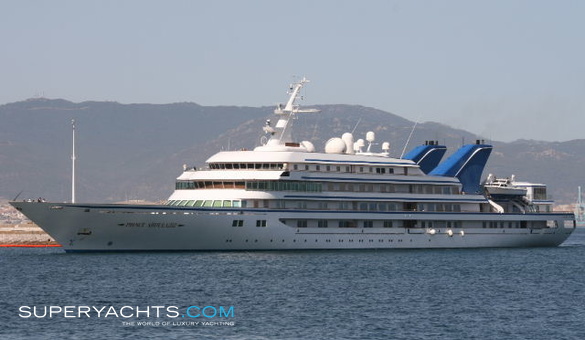 Al Said is owned by the Sultan Qaboos of Oman and was delivered in 2008 by German mega yacht builders Lurssen. Al Said is said to accommodate 70 guests and up to 154 crew, with a maximum speed of 25 knots.
Designed by Monaco based Espen Oeino, Al Said was delivered as a replacement for a smaller mega yacht, also named Al Said. With 6 decks and rumoured to house a concert room big enough for a 50 piece orchestra, Al Said is a truly a Royal mega yacht fit for a King.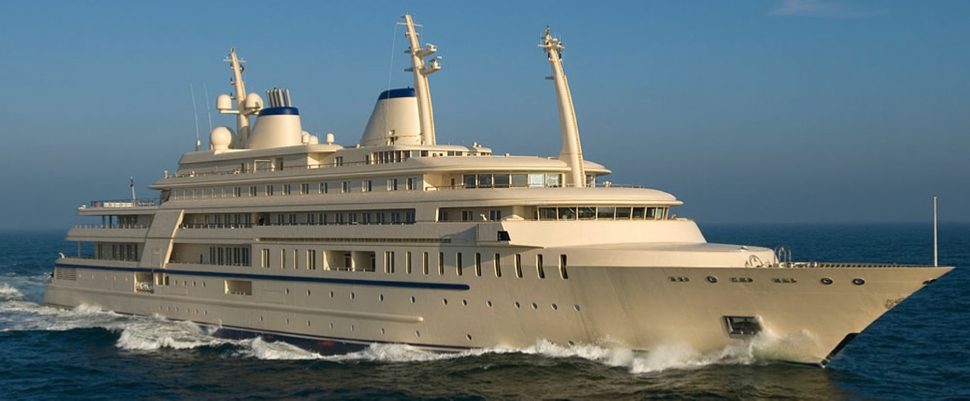 Owned by Sheikh Mohammed Bin Rashid Al Maktoum, Vice President and Prime Minister of the UAE and Ruler of Dubai, motor yacht Dubai was jointly built by German ship builders Blohm + Voss and Lurssen.
The yacht was transported to Dubai on a floating dock where Platinum Yachts completed the build and interior design in 2006. The yacht has its own specially constructed berth island situated next to Dubai's Palm Jumeirah Island and in front of Sheikh Mohammed Bin Rashid Al Maktoum's summer palace.
Situated just 5 minutes away from our office in Dubai, we can certainly say that this yacht is a truly spectacular addition to Dubai's luxurious scenery.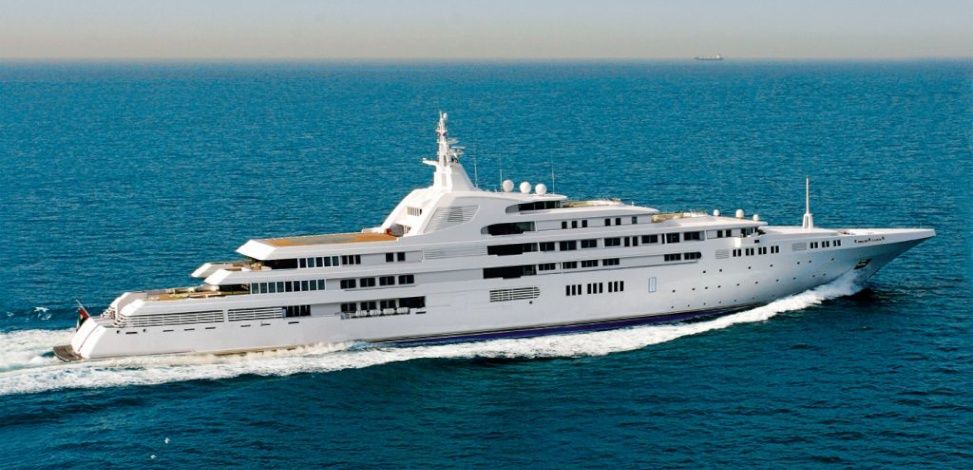 Eclipse belongs to Russian business tycoon and owner of Chelsea Football Club Roman Abramovich. The yacht was delivered in late 2010 by German based ship builders Blohm + Voss and designed by super yacht designer extraordinaire Terence Disdale.
As expected, the world's second largest super yacht houses not one but two heli-pads, two swimming pools, a dancefloor, a hair salon and a gym. It also has 3 launch boats, a submarine and a high-tech security system with German-built missile defence and intruder detection.
The master suite is fitted with bullet proof windows and armour plating and is rumoured to be equipped with an anti-paparazzi laser shield where lights are shone at a camera's lens when detected to prevent any photographs being taken.
Now that's some serious security for a serious mega yacht.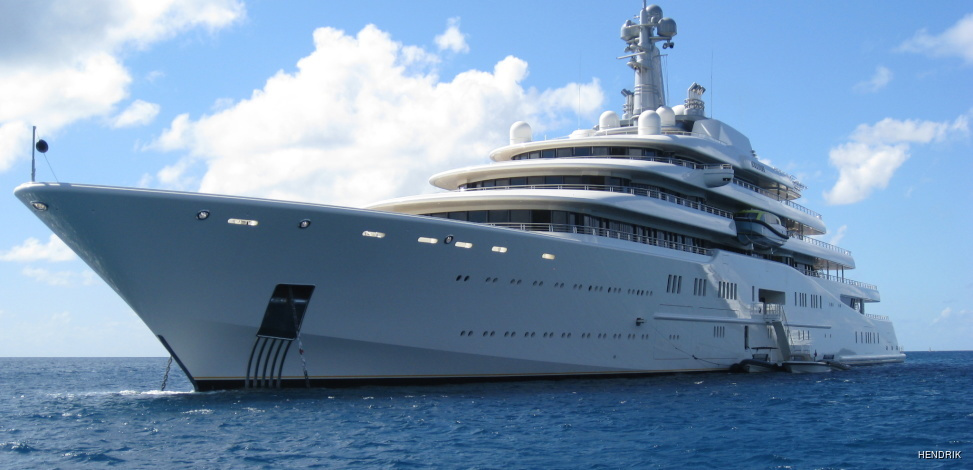 Azzam was newly launched in April 2013 by leading German shipyard Lurssen, beating Roman Abramovich's yacht Eclipse by a whopping 17.5 meters and setting a new standard in the super yacht world. The owner of the vessel is still under wraps, however the yacht is rumoured to have been paid for by a member of the Saudi Royal family.
Azzam raises the bar by not only being the longest yacht in the world, but also one of the fastest, with the 94,000 horsepower vessel capable of reaching speeds of up to 30 knots – phenomenal for a vessel of its size. Azzam, meaning 'determined' in Arabic, took just 3 years to build after 1 year in engineering, adding another record and truly representing a milestone in yachting history.
There they are, the Top 10 Largest Yachts in the World, as they stand right now. If you could own one, which would it be?
Information & image sources include Wikipedia and SuperYachts.com.